Call for Abstract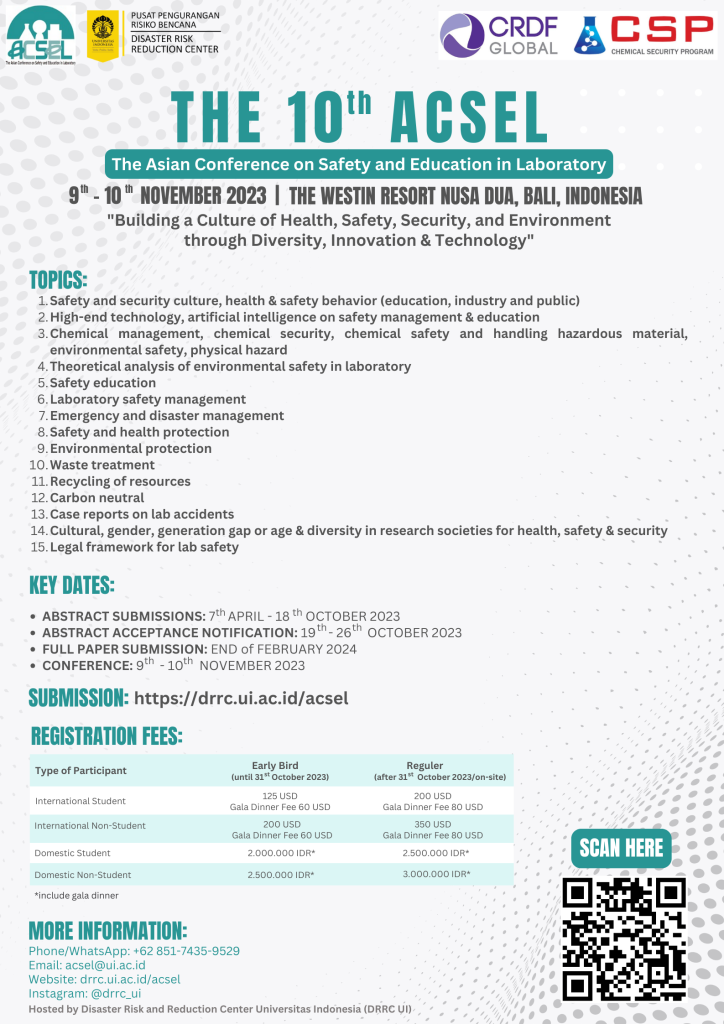 Technical sessions
The following is a list of Symposium Topics for the 10th Asian Conference on Safety and Education in Laboratory. Abstracts for Oral and Poster presentations can be submitted for both sessions. Posters will be on display throughout the conference. Please submit an abstract for the session that you think best fits one of the following sub-topics:
Safety and security culture, health and safety behavior (education, industry and public)
High-end technology, artificial intelligence on safety management & education
Chemical management, chemical security, chemical safety and handling hazardous material, environmental safety, physical hazard
Theoretical analysis of environmental safety in laboratory
Safety education
Laboratory safety management
Emergency and disaster management
Safety and health protection
Environmental protection
Waste treatment
Recycling of resources
Carbon neutral
Case reports on lab accidents
Cultural, gender, generation gap/age & diversity in research societies for health, safety & security
Legal framework for lab safety
To Present a Technical Paper
A 300 words abstract (due by 18th October 2023) is to be submitted by those who wish to make a presentation in the conference. Based on these submissions  we will decide as whether you will be giving oral or poster presentation. Authors will be notified of the results after 19th October 2023.
Submit your Abstract through our Abstract Submission System https://drrc.ui.ac.id/acsel/index.php/register/ and use the following Template for Abstract ACSEL 2023 Abstract Template
Publication:
Proceeding (ISBN)
Selected papers will be invited to publish in special issue of the Journal of Environment and Safety (e-ISSN: 2186-3725; p-ISSN:1884-4375; ISSN-L:  1884-4375) in the link: website. The deadline of the submission to be End of February 2024