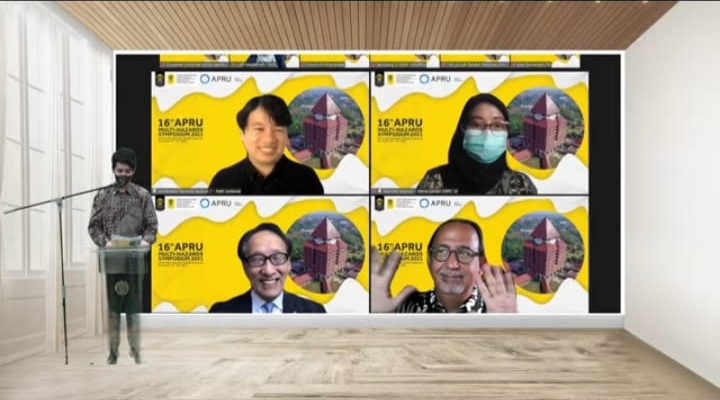 Depok, November 25th, 2021 – On 24 And 25 November 2021, Disaster Risk Reduction Center Universitas Indonesia (Drrc Ui), International Office Universitas Indonesia (Io-Ui) Collaborated With The Association Of Pacific Rim Universities (Apru) To Organize "The 16th Apru Multi Hazards Symposium 2021". This Symposium Is A Disaster-Themed Symposium Held As A Platform For Academics, Experts, Professionals, And The General Public To Exchange Ideas, Propose Ideas, And Discuss Various Issues In The Field Of Disaster. This Year, With The Theme "Building Partnerships For Sustainable Disaster Risk Reduction (Drr) For All Hazards", The Symposium Was Attended By 1044 Participants From Various National And International Groups.

In This Symposium, There Are 10 Sub-Themes That Are The Focus: Engineering And Infrastructures In Disaster; Natural Hazards Triggering Technological Disasters (Natech); Pandemics And Public Health Issues; Disaster Mitigation: Policies, Practices And Alternatives; Emergency And Crisis Management; Business Continuity Management And Disaster Insurance; Social Science Perspective In Disaster; Statistical And Modeling Tools For Disaster Management; Community Empowerment For Drr; And Media And Communication. The Symposium Received More Than 350 Abstracts From Various Authors Around The World.

At The Symposium, Several Guests Of Honor Attended This Event. Guests Of Honor Include Prof. Ari Kuncoro, S.E., M.A., Ph.D., Chancellor Of The University Of Indonesia; Prof. Dra. Fatma Lestari, M.Sc., Ph.D., Director Of Drrc Ui; Dr. Raditya Jati, S.Si., M.Sc., Deputy Of System And Strategy Of Bnpb Ri; Dr. Christopher Tremewan, Secretary General Of Apru; Prof. Dr. Riyanti Djalante, Asean Secretariat; Prof. Rajib Shaw, Keio University; Prof. Fumihiko Imamura, Ph.D., Tohoku University; Prof. Dwikorita Karnawati, Ph.D., Bmkg; Ardito M Kodijat, Unesco Jakarta; Prof. Takako Izumi, Ph.D., Tohoku University; Alexander Hamilton, Ph.D., Unicri; Prof. Dr. Natt Leelawat, Chulalongkorn University; Prof. Karl Kim, Ph.D., University Of Hawaii At Manoa; And Mizan Bisri Ph.D., Kobe University.