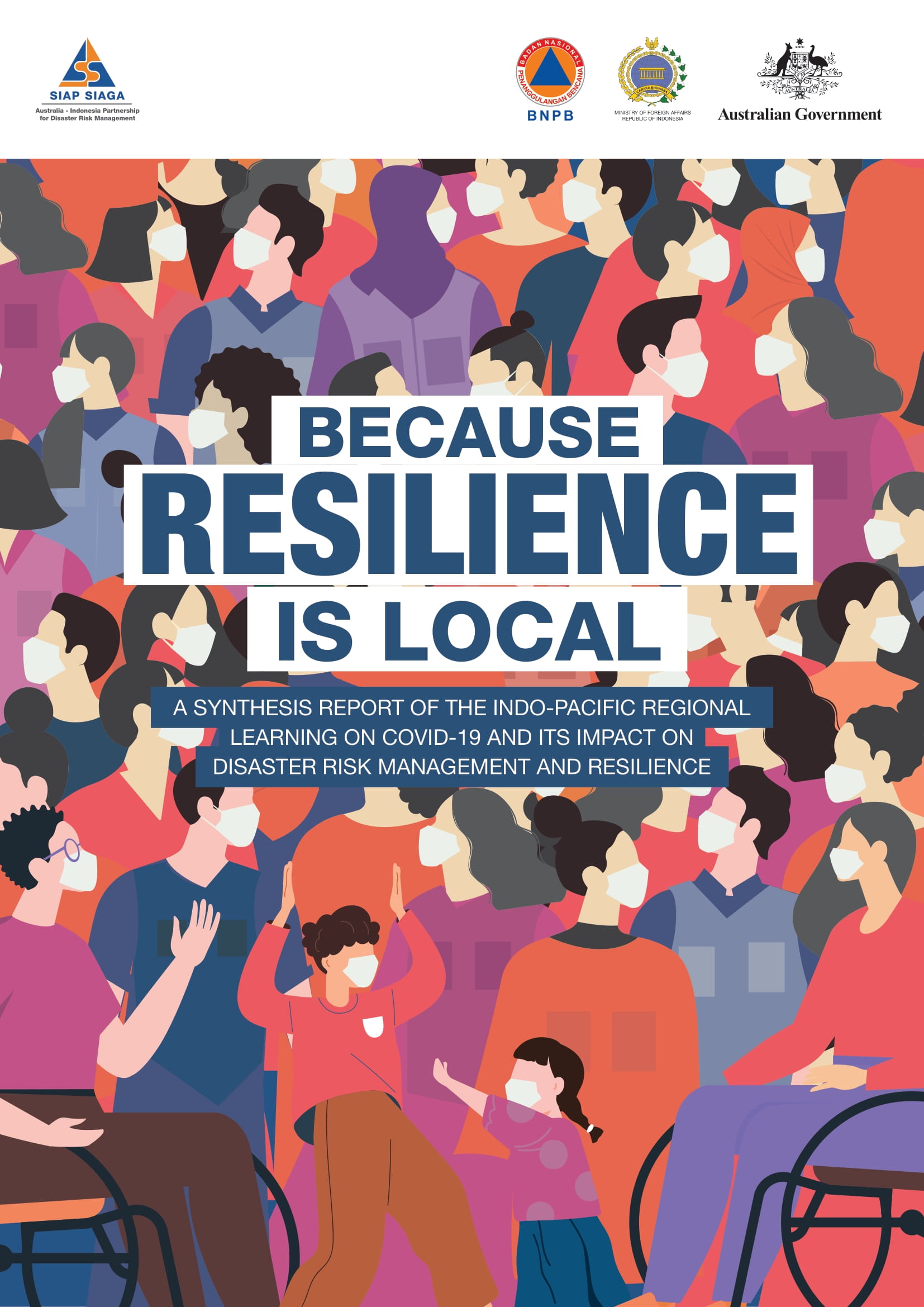 BECAUSE RESILIENCE IS LOCAL

On 27th of October 2021, Disaster Risk Reduction Center UI Director and Team presented our research in a regional symposium. The research is titled "Importance of Integrating Native Language into the Digitization of Disaster and Pandemic Communication for People with Disabilities in Indonesia: Lessons from the COVID-19 Pandemic".

The symposium is a collaboration between the Indonesian National Disaster Management Authority (BNPB), Indonesian Ministry of Foreign Affairs, As well as Australian Department of Foreign Affairs and Trade under the Indonesia-Australia Partnership for Disaster Risk Management, implemented by SIAP SIAGA.

A synthesis report of the Indo-Pacific Regional learning on COVID-19 and its impact on Disaster Risk Management and Resilience, in which our director is one of the contributors, has been published. Please click the link below to download the report.
Recent Events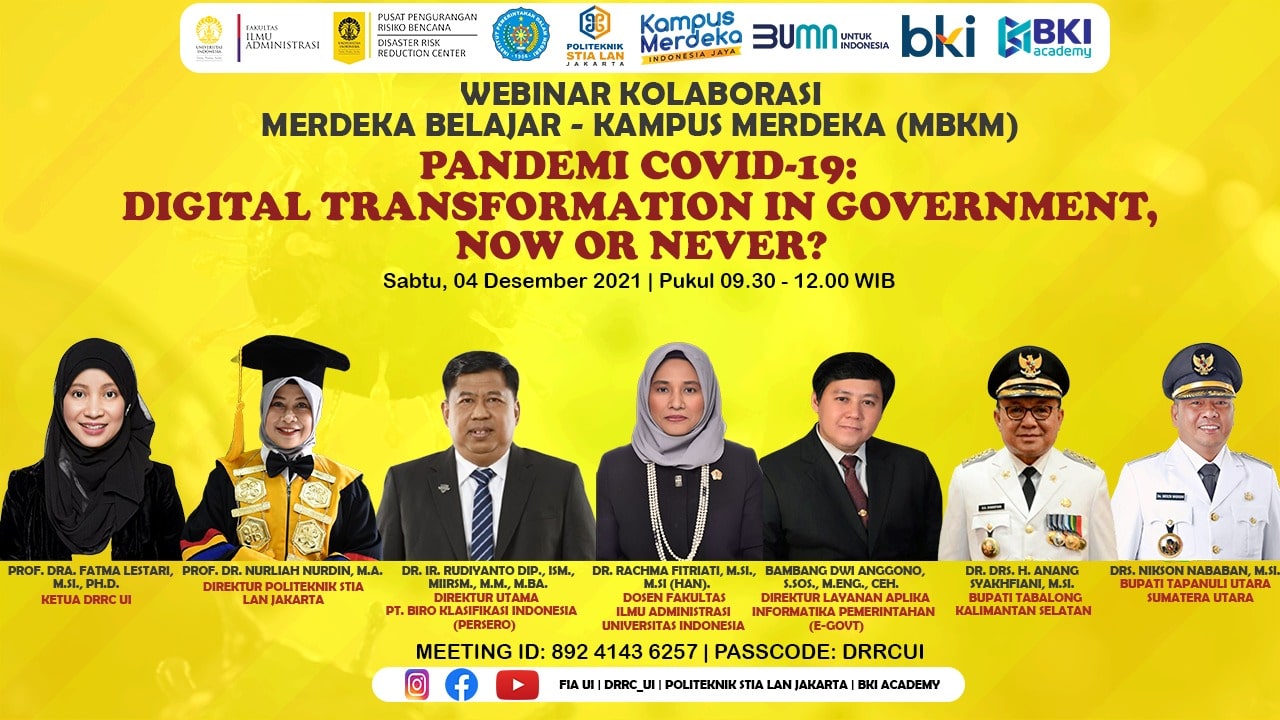 WEBINAR KOLABORASI (MBKM)
PANDEMI COVID-19: DIGITAL TRANSFORMATION IN GOVERNMENT, NOW OR NEVER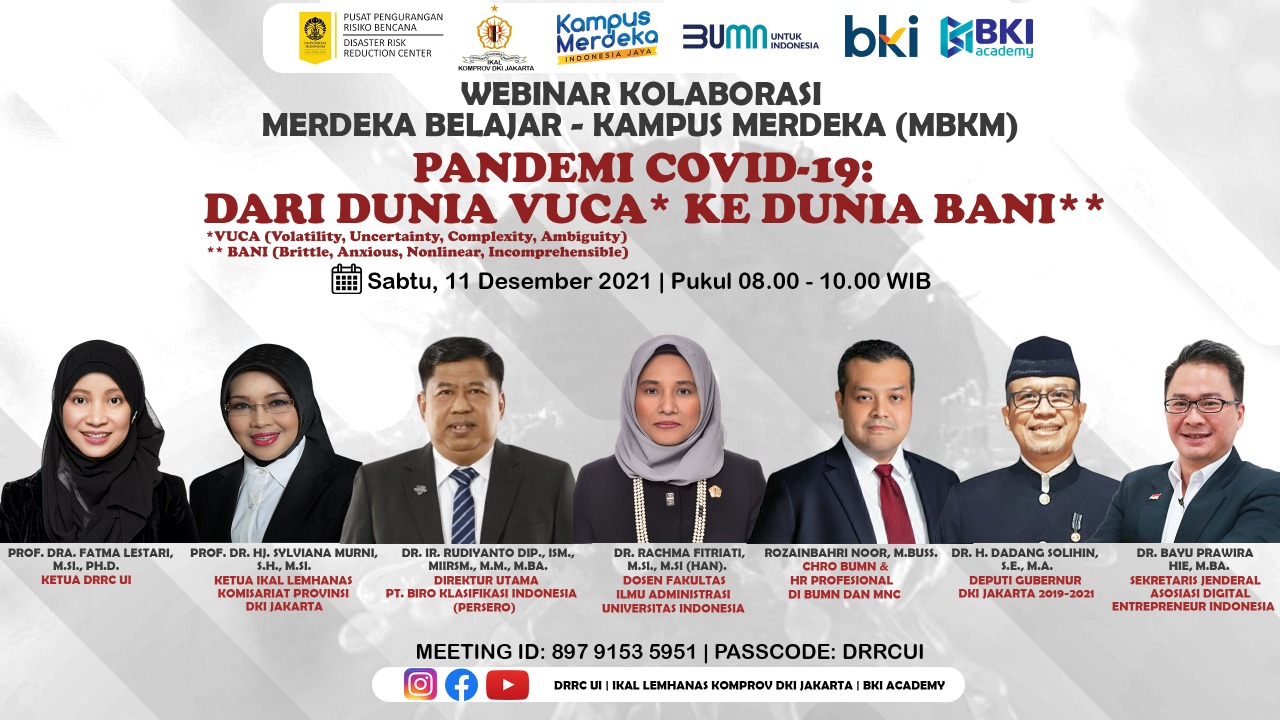 WEBINAR KOLABORASI (MBKM)
Geliat Transformasi Posyandu di Masa Pandemi COVID-19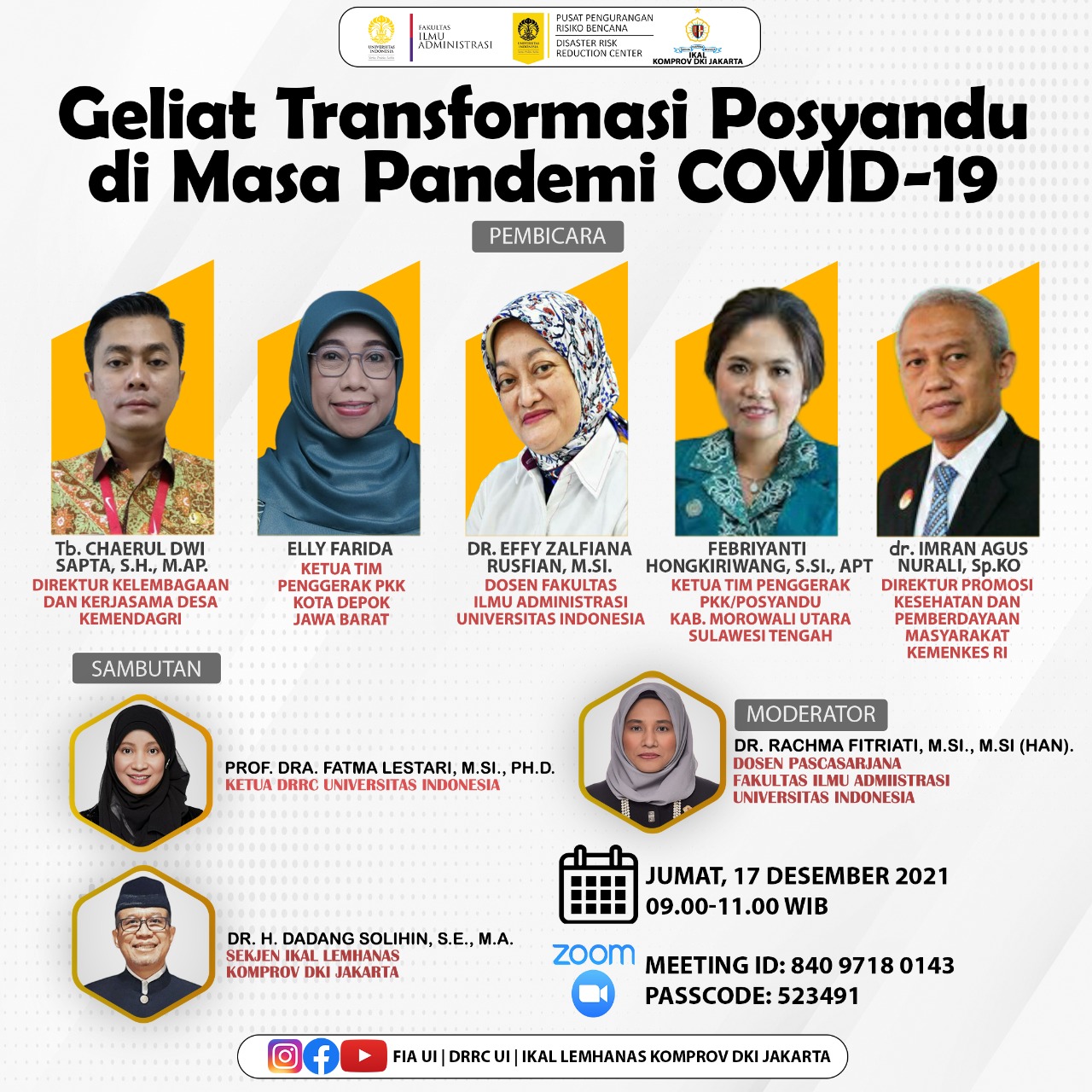 WEBINAR KOLABORASI (MBKM)
PANDEMI COVID-19: DARI DUNIA VUCA* KE DUNIA BANI**
Bapak Ibu yang terhormat, Apabila anda telah menghadiri salah satu atau seluruh rangkaian webinar yang diselenggarakan secara kolaboratif oleh DRRC UI, silahkan klik tombol pada sebelah kanan untuk mengunduh sertifikat anda.

(Ladies and Gentlemen, if you have attended any or all of the following webinars held collaboratively by DRRC UI, please click the button on the right to download your certificate).
Click Here To Download Your Certificate!
About DRRC UI:
Disaster Research & Response Center (DRRC) atau Pusat Riset & Respon Bencana (PRRB) Universitas Indonesia berdiri sejak tahun 2014 berlandaskan Surat Keputusan Rektor UI Nomor 0140A/SK/R/UI/2014 yang menyatakan berdirinya Pusat Riset dan Respons Bencana (Disaster Research & Response Center) Universitas Indonesia (DRRC UI) pada tanggal 4 Februari 2014. Namun, semenjak...
Pelajari lebih lanjut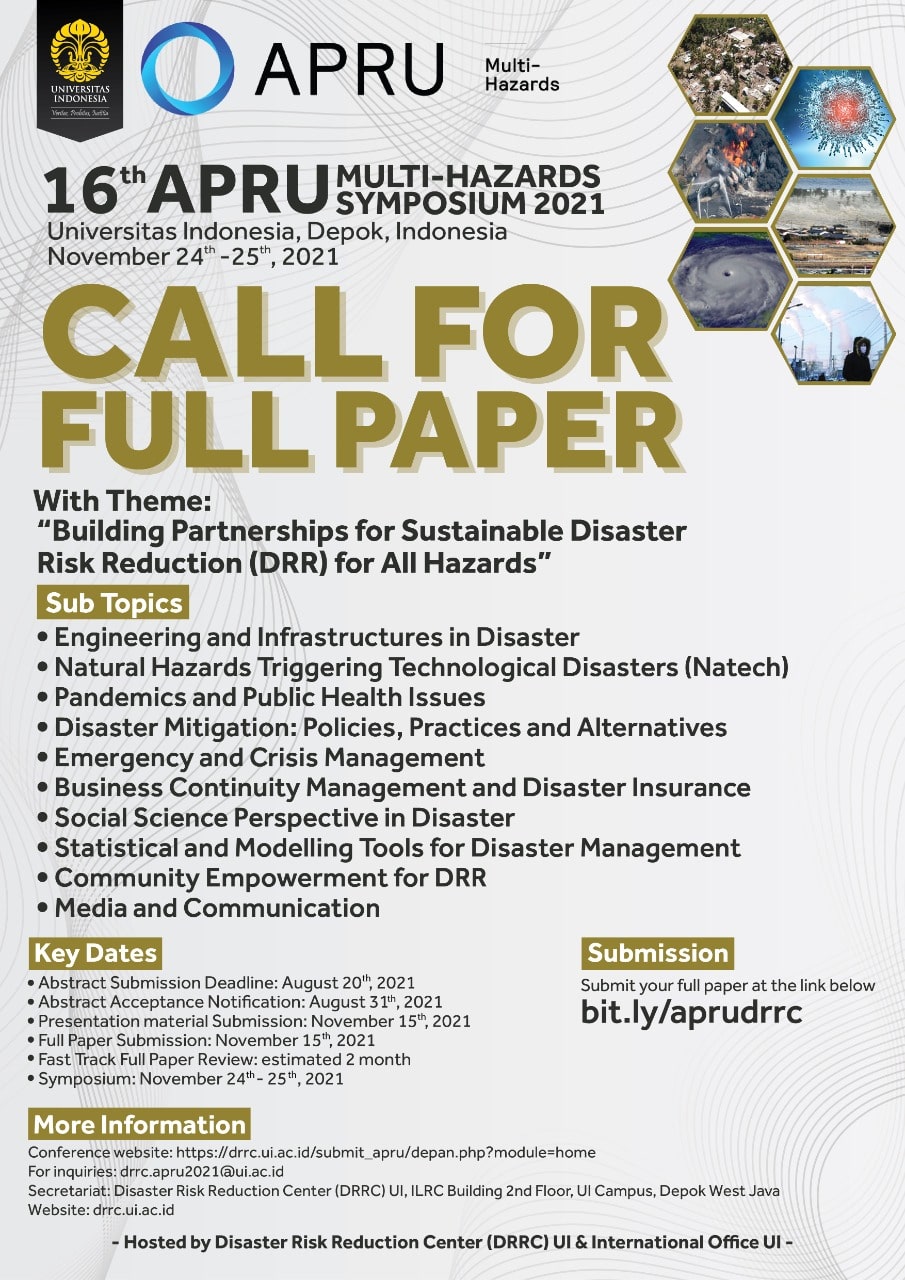 16th APRU Multi-Hazards Symposium 2021
About APRU
As a network of 61 leading universities linking the Americas, Asia and Australasia, the Association of Pacific Rim Universities (APRU) brings together thought leaders, researchers, and policy-makers to exchange ideas and collaborate on effective solutions to the challenges of the 21st century.

We leverage collective education and research capabilities of our members into the international public policy process. In the post-pandemic era, our strategic priorities focus on providing a neutral platform for high-level policy dialogue, taking actions on climate change, and supporting diversity, inclusion, and minorities. APRU's primary activities support these strategic priorities with a focus on key areas such as disaster risk reduction, women in leadership, indigenous knowledge, population aging, global health, sustainable cities, artificial intelligence, waste management and more.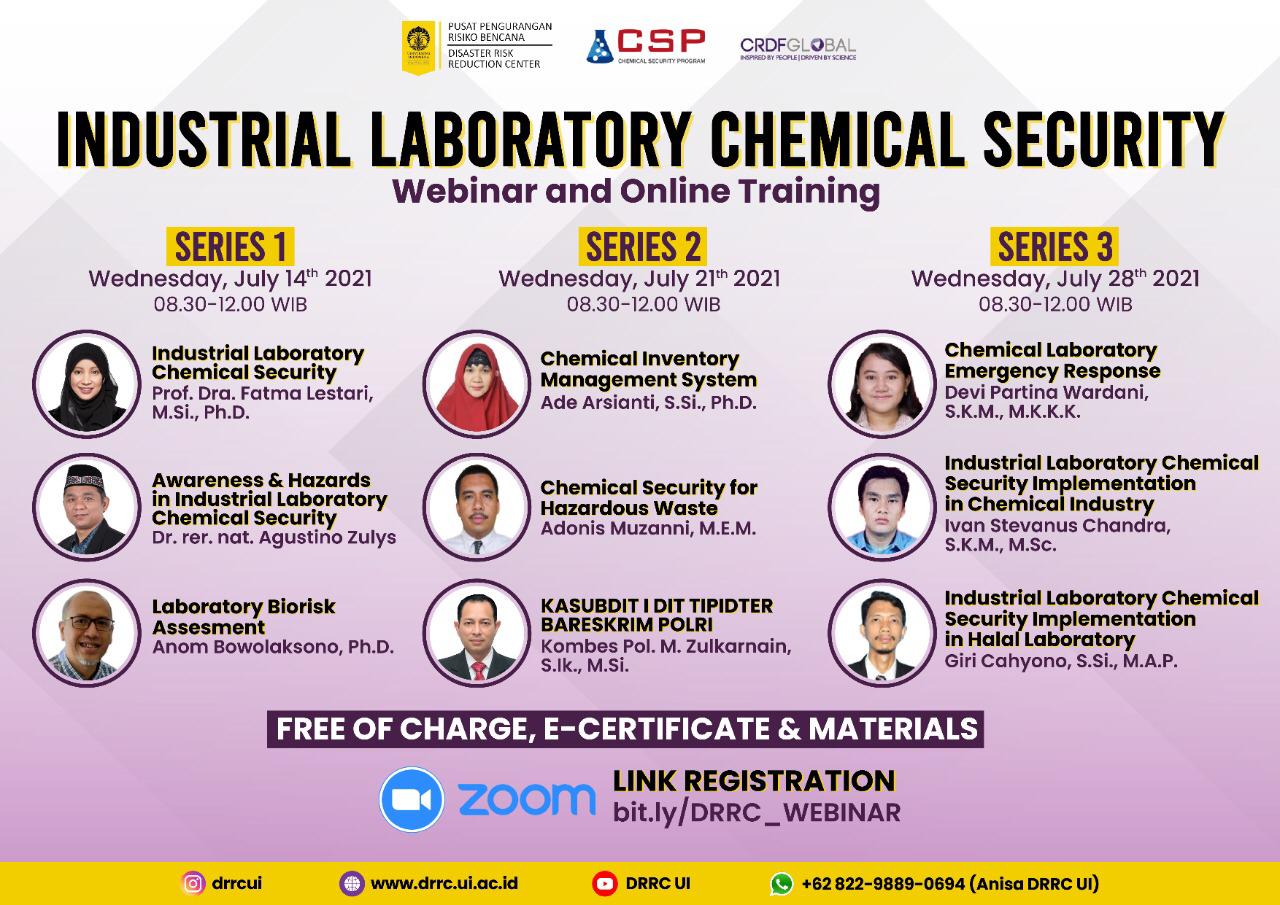 Webinar Series 14 Juli – 28 Juli 2021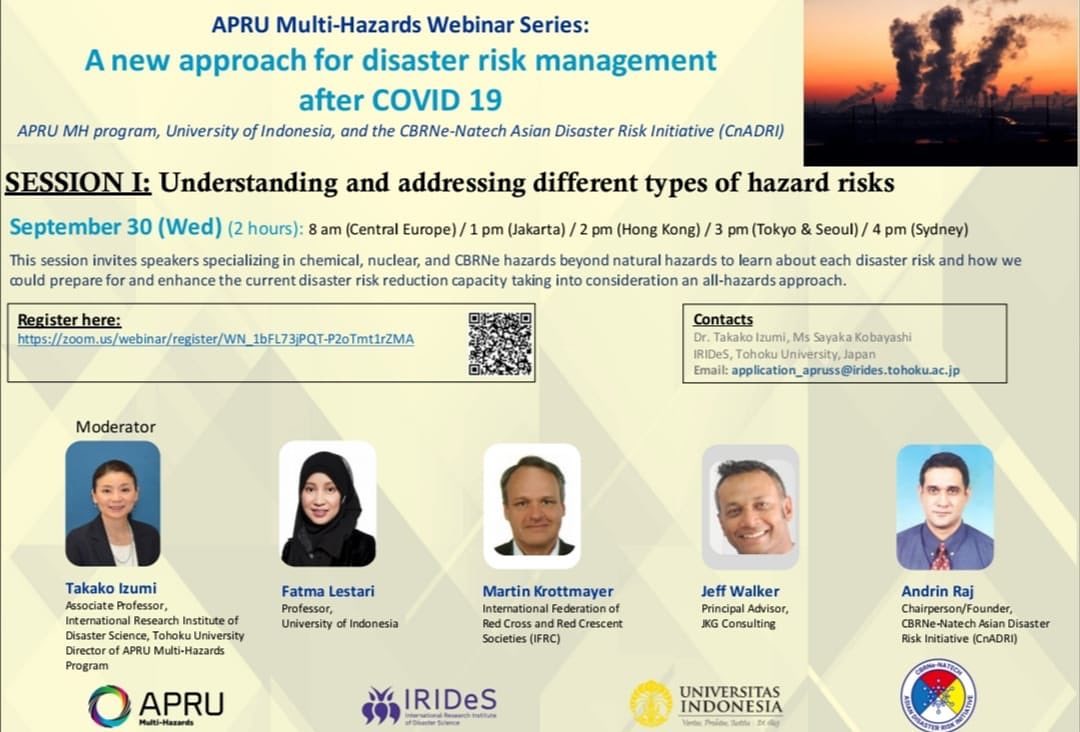 SEPTEMBER 30, 2020
8 AM (CENTRAL EUROPE), 1 PM (JAKARTA),
2 PM (HONG KONG), 3 PM (TOKYO. SEOUL),
4 PM (SYDNEY)

UNDERSTANDING AND ADDRESSING DIFFERENT TYPE OF HAZARD RISK.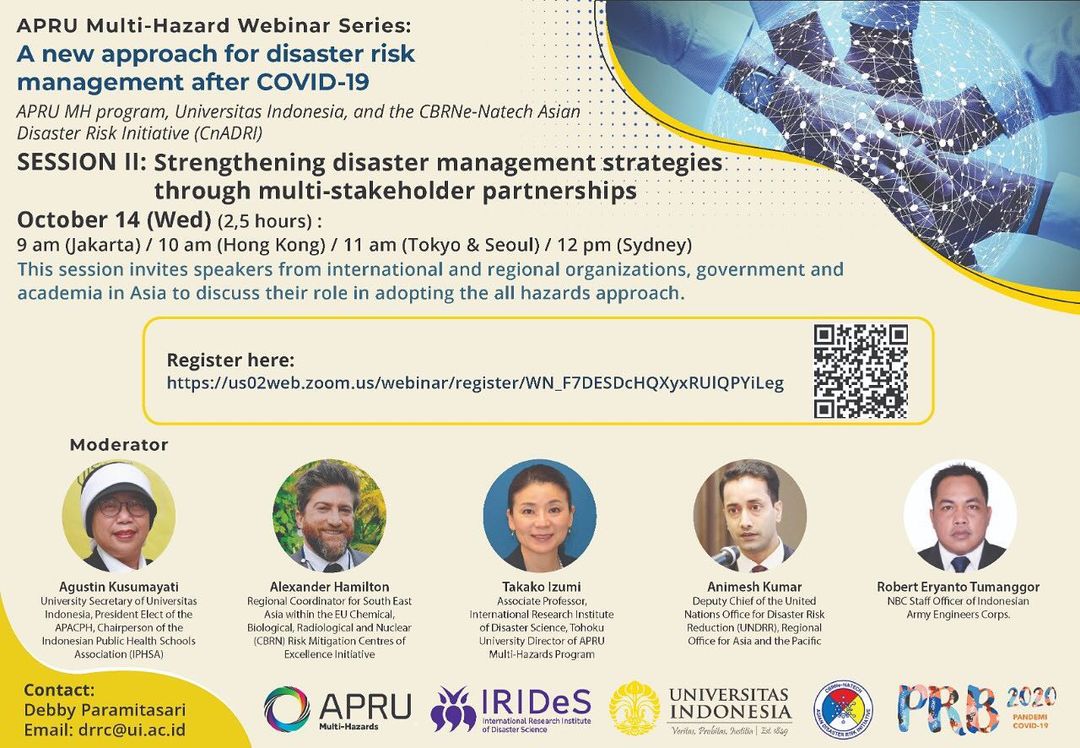 OCTOBER 14, 2020
9 AM (JAKARTA), 10 AM (HONG KONG),
11 AM (TOKYO. SEOUL), 12 PM (SYDNEY)

STRENGTHEING DISASTER MANAGEMENT STRATEGIES THROUGH MULTI-STEAKHOLDER PARTNERSHIPS.

Activity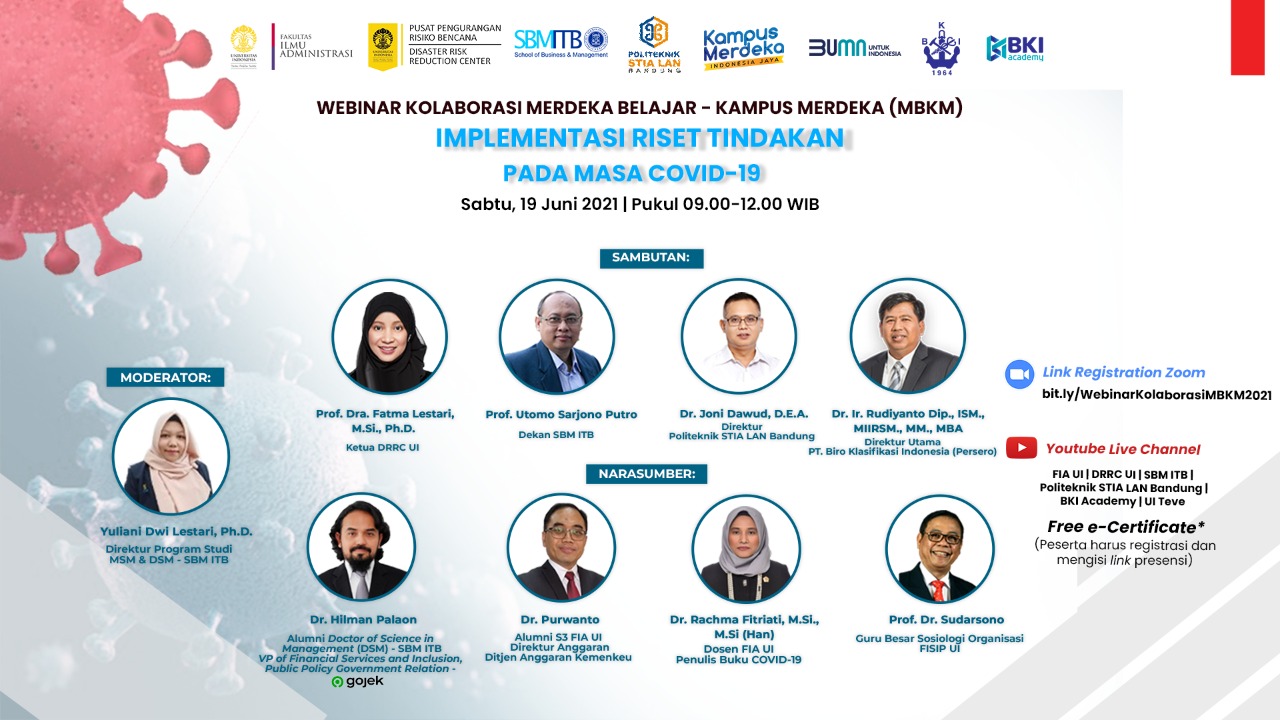 WEBINAR

IMPLEMENTASI RISET TINDAKAN PADA MASA COVID-19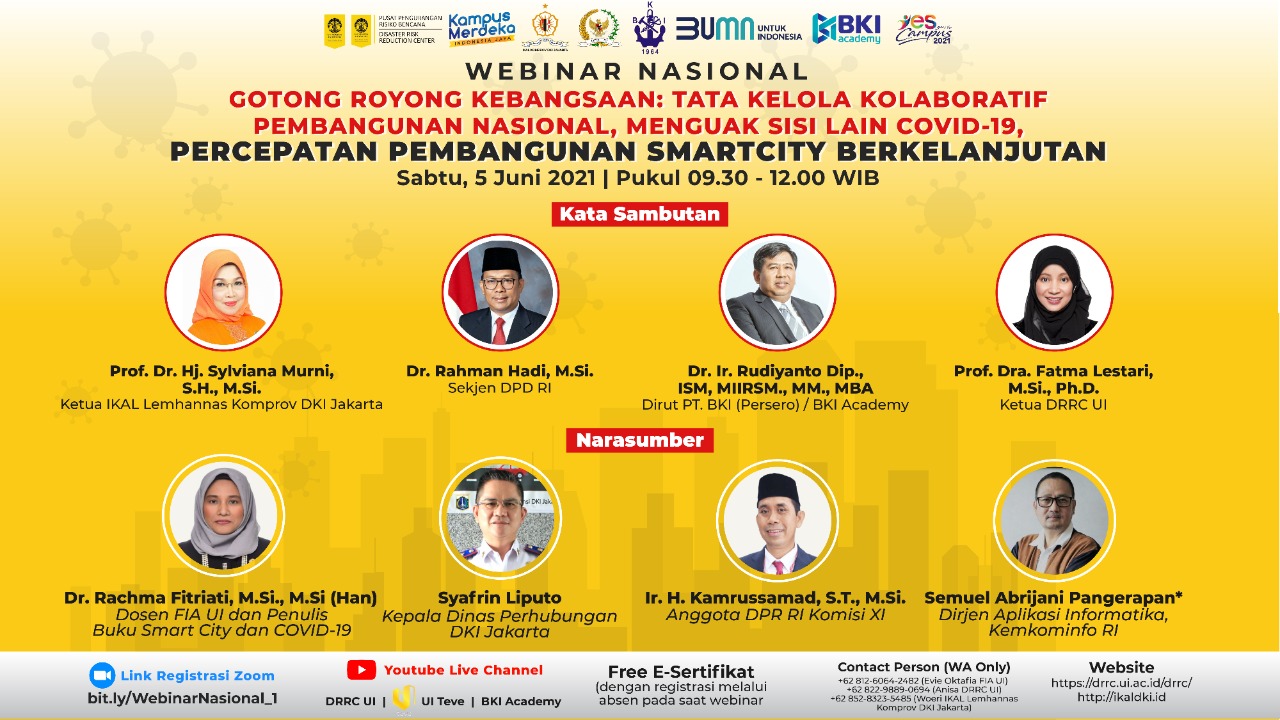 WEBINAR

GOTONG ROYONG KEBANGSAAN TATA KELOLA KOLABORATIF PEMBANGUNAN NASIONAL, MENGUAK SISI LAIN COVID-19 PERCEPATAN PEMBANGUNAN SMARTCITY BERKELANJUTAN
WEBINAR

PERAN PERGURUAN TINGGI DALAM KOMUNIKASI PUBLIK PENANGANAN COVID-19 DAN PEMULIHAN EKONOMI NASIONAL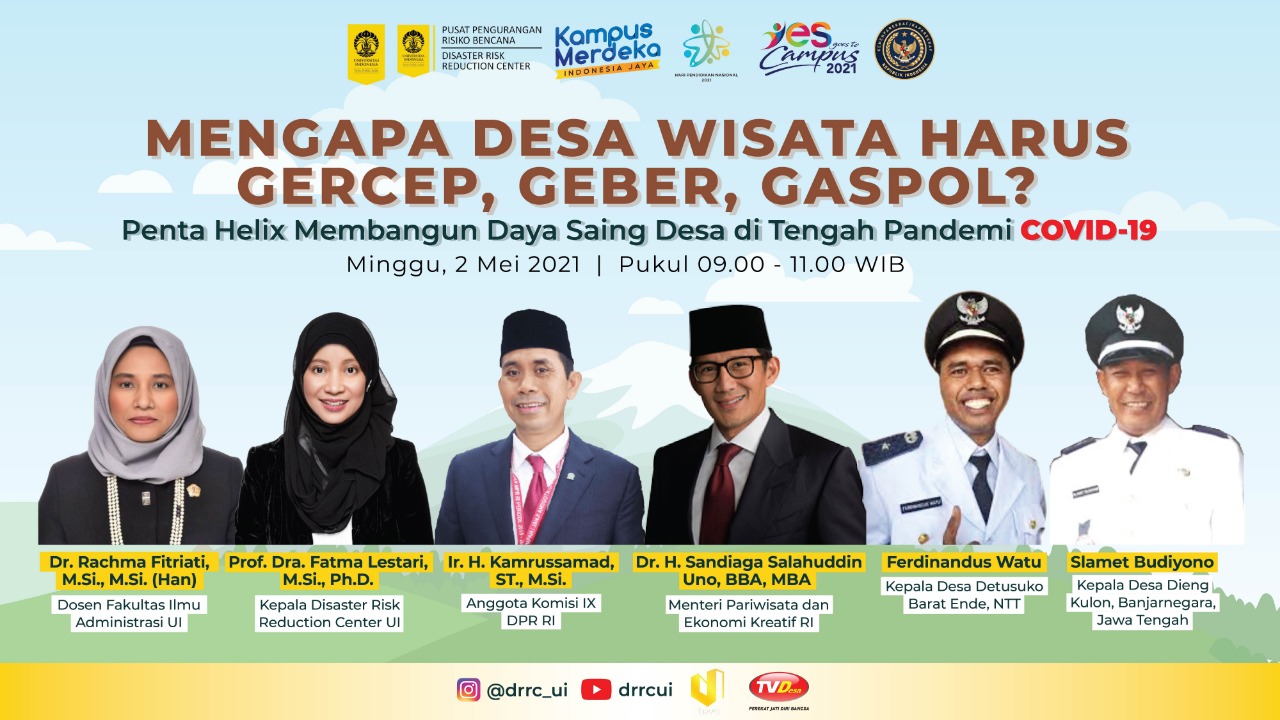 WEBINAR

Mengapa desa wisata harus gercep, geber, gaspol?
SEMINAR
IN DISASTER MANAGEMENT
AND HUMANITARIAN ASSISTANCE

Depok Selasa, 24 Agustus 2021
Disaster Risk Reduction Center Universitas Indonesia, Bekerjasama dengan University of Hawaii di Mānoa dan Asian Institute of Technology, Bangkok, dengan bangga mempersembahkan "SEMINAR DALAM MANAJEMEN BENCANA DAN BANTUAN KEMANUSIAAN" Internasional.

Seminar akan dilaksanakan dalam 15 sesi dari bulan Agustus hingga Desember 2021. Acara ini merupakan ajang pengenalan Penanggulangan Bencana – Bantuan Kemanusiaan dan akan menghadirkan pembicara-pembicara terkemuka dari berbagai institusi dan latar belakang.
Disaster Risk Reduction Center Universitas Indonesia, In Collaboration with University of Hawaii in Mānoa and Asian Institute of Technology, Bangkok, is proud to deliver International "SEMINAR IN DISASTER MANAGEMENT AND HUMANITARIAN ASSISTANCE".

The seminar will be done in 15 sessions from August to December 2021. The event serves as a platform for introduction to Disaster Management – Humanitarian Assistance and will feature notable speakers from various institutions and backgrounds.
Our Books
Versi bahasa Indonesia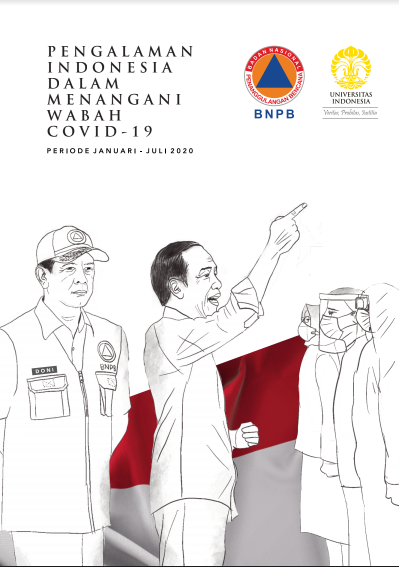 PENGALAMAN INDONESIA DALAM MENANGANI WABAH COVID-19

NASIONAL
PENGALAMAN INDONESIA DALAM MENANGANI WABAH COVID-19

17 PROVINSI DAN PEMBELAJARAN DARI MANCANEGARA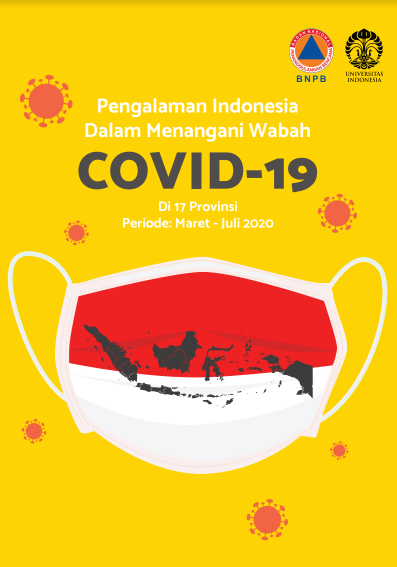 PENGALAMAN INDONESIA DALAM MENANGANI WABAH COVID-19

17 PROVINSI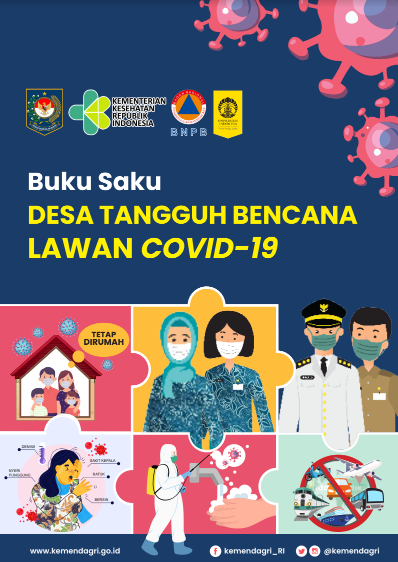 BUKU SAKU DESA TANGGUH BENCANA LAWAN COVID-19
English version
Indonesia's Experince in Covid-19 Control

NATIONAL
Indonesia's Experince Controlling the Pandemic Covid-19

IN 17 PROVINCES AND LESSON LEARNED VARIOUS COUNTRY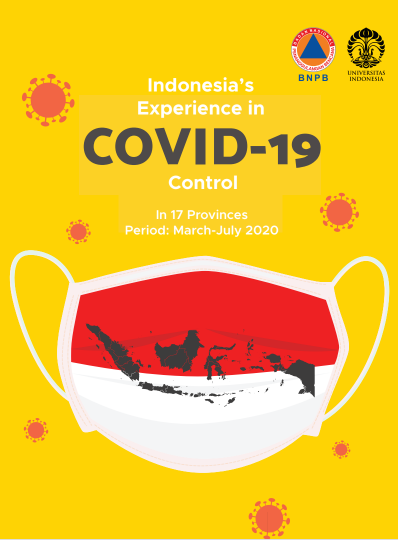 Indonesia's Experience in Covid-19 Control

IN 17 PROVINCIES
Pergi ke halaman unduh